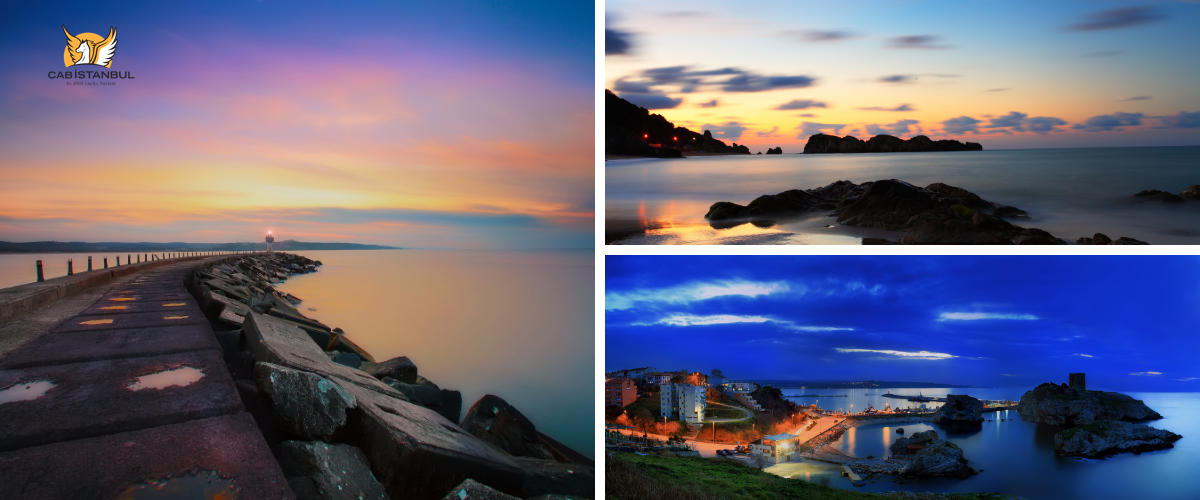 Discovering Şile & Ağva: A Gateway to Enchanting Attractions
Charming Escapes: Discovering the Alluring Havens of Şile and Ağva
Nestled along the tranquil shores of the Black Sea, merely an hour away from the bustling heart of Istanbul, lie the quaint and picturesque towns of Şile and Ağva. Their serene beaches, lush greenery, and age-old historical relics offer a splendid retreat for those seeking solace from the city's incessant pace. A voyage to these coastal gems unfolds a spectrum of attractions ranging from the majestic Şile Castle, whispering tales of the bygone era, to the soothing river cruises in Ağva. As you stroll along the cobbled pathways, each turn unravels a blend of timeless history and untouched natural splendor, promising an invigorating excursion to every wanderlust soul. This blog unfolds the myriad attractions that Şile and Ağva harbor, offering a glimpse into a tranquil realm that lies in close proximity to Istanbul's vibrant chaos. Whether you are a history aficionado, a nature enthusiast, or someone in pursuit of serene landscapes, Şile and Ağva beckon with the promise of a refreshing escapade. So, let us delve into the heart of these coastal paradises and unveil the plethora of experiences awaiting your discovery.
Soothing Retreats: Unveiling the Tranquil Enclaves of Şile and Ağva: These idyllic havens are the quintessential escape where one can distance oneself from the crowd and the relentless city traffic. To explore the serene rivers, pristine beaches, secluded coves, and the myriad of natural wonders that Şile and Ağva encapsulate, one can opt for the distinguished services of Cab Istanbul private transfers. Alternatively, the choice of renting a car with a chauffeur for a day's expedition through the serene landscapes of Şile and Ağva stands as a delightful prospect. Embark on a journey to these peaceful retreats, and let the natural splendors and calm ambiance rejuvenate your spirit.
Exploring the Charms of Şile & Ağva: A Scenic Tour
Enchanting Escapes: The Coastal Charms of Şile and Ağva
Emerging as serene retreats along Istanbul's Black Sea coastline, the quaint towns of Şile and Ağva beckon as idyllic havens away from the city's bustling core. Renowned for their picturesque vistas, these neighboring locales offer a delightful blend of natural beauty and historic allure, making them favored destinations for both locals and tourists alike.
Uncovering Şile: Situated a mere 70 km from Istanbul, Şile is a scenic district perched on the Black Sea's shores, marking the northeastern frontier of the Marmara Region. Its unique geographical locale encompasses neighboring regions like Kandira to the east, Derince and Gulf (Körfez) to the south, along with Pendik, Gebze, Çekmeköy, and Beykoz flanking its other sides. The allure of Şile's coastline, enriched by historical landmarks like Şile Castle, Şile Lighthouse, and the quaint historical Şile houses, never ceases to captivate the hearts of its visitors. The region breathes history with remnants like the Hatice Hanım Fountain, Ottoman Bath, and the ruins of ancient churches and castles, each narrating tales of bygone eras.
The Verdant Oasis of Istanbul: Şile's historical tapestry spans back to ancient times when it provided refuge to Christians fleeing Roman persecution. Known by various names like Aschil, Philae, Artane, and Kilia through the ages, Şile's allure lies in its historical landmarks. Among them, the Şile Lighthouse stands tall as Turkey's largest, while other remnants like island castles, bridges, and ancient fountains echo the Greek and Byzantine legacies.
Exploring Ağva: Nestled between the confluence of Göksü and Yeşilçay rivers, Ağva is a charming coastal town that extends the tranquility of Şile further along the Black Sea coastline. Its name, derived from Latin, encapsulates its essence, translating to a "village between two streams." The town, once a crossroads for ancient civilizations like the Hittites, Phrygians, Romans, and Ottomans, today emerges as an ideal getaway within the Marmara region. Its proximity to Istanbul makes it a favored weekend destination, where one can indulge in canoeing or sea biking along the rivers that gently meander into the Black Sea. The quaint hamlet of Hacilli, famed for its caves and waterfalls, and the serene bays like Kilimli and Kadırga Bey offer further exploratory ventures for the nature aficionado.
Ağva's Beaches and Bays: With its myriad of beaches, bays, and natural wonders, Ağva unfolds as a sanctuary for those seeking respite from Istanbul's urban frenzy. From the soothing shores of Ağva Beach, Kurfalı Beach, and Sardala Bay to the serene ambiance of Weeping Rocks Park (Ağlayan Kayalar Park) and Hacilli Waterfall Camping Site, each spot is a testament to Ağva's untouched beauty. Whether you choose to revel in the calm waters of Akçakese Beach, Bagırganlı Beach, or Seyrek Beach, Ağva's coastline promises a rejuvenating experience.
The allure of Şile and Ağva lies in their tranquil ambiance, historical legacies, and natural beauty, all nestled within a stone's throw from Istanbul. Their serene landscapes provide the perfect respite for those longing for a peaceful escape, be it a day's outing or a weekend retreat. So, if the city's hustle leaves you yearning for a breath of fresh air and a glimpse into history, a journey to these coastal havens is sure to satiate your wanderlust spirit.
Aerial Voyage: Unveiling the Pristine Beaches of Şile & Ağva
Şile: Istanbul's Coastal Gem
The serene shores of the Black Sea, merely 70 kilometers from the bustling heart of Istanbul, lies the quaint district of Şile. A historic haven adorned with iconic landmarks such as the timeless Şile Lighthouse and the vigilant Şile Castle, this coastal gem offers a tranquil retreat from urban frenzy. Its picturesque beach, charming historical houses, and ancient caves whisper tales of bygone eras, while the surrounding natural splendors beckon for exploration and rejuvenation. A visit to Şile unfolds a serene tapestry of nature melded with history, promising a refreshing escape for every wanderlust soul.
Şile Lighthouse: The Şile Lighthouse stands as a hallmark of the district's rich history, originally constructed in 1859 during the Ottoman era atop 60-meter high cliffs. With a legacy spanning 156 years, it is one of two lighthouses safeguarding the Black Sea coastline. Today, the lighthouse doubles as a museum, welcoming visitors to explore its storied past.
Şile Castle: Perched vigilantly near Şile Harbor, Şile Castle (Şile Ocaklı Ada Castle) was initially erected by the Genoese and later utilized by the Ottomans. Its strategic location, rising 12 meters high and spanning 100 square meters, aided in maritime surveillance against seaborne threats. Though once obscure, the castle now draws numerous visitors, etching its silhouette as a notable landmark of the region.
Şile Beach: Centrally located in Şile, the beach offers a convenient retreat for those keen on a light travel load. Amenities abound with buffets, restaurants, sun loungers, and umbrellas readily available. Its popularity crescendos over weekends, thus an early arrival is advised to secure a spot on its inviting sands. The calm, shallow waters promise a delightful swim, while the serene ambiance lends itself to leisurely sunbathing and tranquil reading sessions.
Byzantine Houses - Istanbul: The historic houses of Şile, with their distinctive wooden architecture, captivate photographers and history enthusiasts alike. A stroll through the city's lanes transports you to the 19th century, where the Byzantine and Ottoman echoes resonate through the churches, monasteries, mosques, inns, and baths scattered across the district. The remnants in Yeniköy, including bridges, fountains, and baptisteries, further unveil the glorious layers of Şile's past.
Caves in Istanbul-Şile: Şile's caves, once a sanctuary for Christians fleeing Roman persecution, date back to the polished stone age. The region harbors numerous natural caves like Ocaklı Cave, Tersane Cave, Fener altı Cave, Sunset (Akşam Güneşi) Cave, and Tavanlı Caves, each bearing testimony to human habitation through ages.
Şile and Ağva - Idyllic Escapes: Situated 70 km from Istanbul on the Black Sea coastline, the tranquil districts of Şile and Ağva offer a serene refuge from city chaos, especially over weekends. With an array of historical and natural splendors awaiting discovery, these towns provide a peaceful retreat for a few days of rejuvenation.
Breakfast-Brunch at Hidden Lake (Secret Paradise-Saklı Göl Şile): Nestled in Karamandere village en route to Şile, Hidden Lake (Saklıgöl) is an artificial lake surrounded by verdant forests, becoming a favored spot for picnickers. The lake's social facilities feature a restaurant where guests can relish breakfasts crafted from local produce, or partake in a barbecue lunch. Post-meal, a leisurely hike around the lake or a relaxed sit on the resort's porches is a delightful way to soak in the serene ambiance.
Waterfalls Near Istanbul: A short half-hour drive from the city center unveils the breathtaking Hacıllı Waterfall and Eleven Lakes Valley. Situated 33 km from Şile, Degirmencayırı Waterfall resides on the border of Şile-Gebze districts. Here, nature enthusiasts can revel in a picturesque trail showcasing a string of lakes and waterfalls, offering an immersive experience into Şile's natural beauty.
Kurudere Waterfall: Located in Hacilli Village, Kurudere Waterfall is an oasis of tranquility, particularly during the sweltering summer days. Its soothing cascades and the harmonious hum of flowing water provide a resplendent escape. Adventurers might find the climbing rocks enticing, and the surrounding ponds invite a refreshing dip. For the more adventurous at heart, the region also offers camping opportunities to prolong the escapade amidst nature's splendor.
Şile Beacon: A Cinematic Glimpse of the Historic Lighthouse
Ağva: An Enchanting Blend of Rivers, Caves, and Camping Retreats
Untouched beauty of Ağva, a quaint coastal town nestled along the serene Black Sea coast. Embraced by the tranquil waters of Göksu River and Yeşilçay Stream, Ağva unveils a harmonious blend of nature's splendors and rustic charm. Venture into the mystical allure of Gürlek Cave, where ancient stalactites narrate tales of bygone eras. When the call of the wild beckons, set forth on a camping adventure amidst the verdant embrace of Ağva Green Park. Here, the gentle murmur of the river, the whisper of the ancient caves, and the camaraderie around a campfire promise an escape that rejuvenates the soul, all under the gentle canopy of a starlit sky.
Ağva Lighthouse: Situated at the confluence of the Yeşilçay River and the Black Sea, the Ağva Lighthouse emerges as a quintessential spot for a serene retreat in Ağva. Particularly enchanting during a windy afternoon, the lighthouse vicinity offers a soothing escapade with the rhythmic sea waves crashing against the rocks and the gentle breeze caressing your face. Renowned as an ideal vantage point to witness breathtaking sunsets, this lighthouse symbolizes the tranquility Ağva embodies. To further ease your travel between Istanbul and this coastal haven, consider utilizing our professional transportation services to Ağva/Şile.
Crying Rock (Ağlayan Kaya): The Crying Rock, a unique water source emanating from stones, mimics a tearful flow, lending to its evocative name. Situated 10 km from the city center and 60 km from the Black Sea shores, this natural wonder is nestled 600 meters behind the Şile Lighthouse, offering a picturesque retreat amidst nature's splendor.
Ağva Green Park / Caravans Camping: Green Park, acclaimed as one of Turkey's largest campsites, invites nature enthusiasts for an immersive outdoor experience. With provisions for 100 caravans and tents, the park welcomes visitors to either bring their own accommodations or opt for on-site rentals. The camping area is replete with amenities including cafes, markets, TV, and a playground, ensuring a comfortable and enjoyable stay amidst nature's embrace.
Kumbaba (Sandfather) Hill: Kumbaba Hill, steeped in lore and natural beauty, is a notable attraction in Şile. The hill's unique red and orange sands, reputed for their healing properties, draw both the curious and the ailing. The tale of Kumbaba, the discoverer of the sands' healing prowess, lends the hill its name and a mystical allure. Its therapeutic sands, rich in iron-copper alloy and radioactivity, have been utilized since the Byzantine era, especially for alleviating rheumatic ailments.
Gürlek Cave: The historic Gürlek Cave, discovered in 1985, unveils an ancient refuge for Christians alongside mesmerizing stalactites and rock formations. Its discovery led to archaeological expeditions that unearthed human remains and artifacts dating back to the 3rd and 4th centuries. A visit to Gürlek Cave promises a fascinating delve into history amidst natural grandeur, although it's advisable to explore with an experienced team due to the cave's challenging terrain.
Skyward Bound: An Aerial Expedition over Şile Castle
Ağva Beaches: Tranquil Coastal Retreats Await
Each Ağva beach, with its unique charm, invites a journey of relaxation and exploration. Whether it's the lively ambiance of Ağva Beach, the calm retreat of Karacakoy Beach, or the secluded sands of Kabakoz Beach, there's a seaside haven for every wanderer. Embark on a tranquil retreat amidst nature's embrace, where the rhythmic whispers of waves, the gentle caress of cool breezes, and the soft sands beneath your feet promise an escapade of rejuvenation just a stone's throw from Istanbul. The unspoiled beauty of Ağva's beaches awaits, offering a peaceful respite from the urban hustle and an invitation to bask in the simple joys of seaside tranquility.
Ağva Beach: Embrace the tranquil allure of Ağva Beach, a pristine stretch ideal for serene beach walks. Despite its popularity over weekends, it remains a sought-after destination. The invigorating chill of its waters during summer provides a refreshing respite from the heat. With ample amenities, Ağva Beach ensures a comfortable seaside retreat. Please note: The sea can be quite turbulent at times.
Karacakoy Beach: Renowned as one of Şile's picturesque beaches, Karacakoy Beach nestles between two captivating capes forming a natural harbor. Its calm ambiance attracts families and day-trippers, especially during summer. Essential facilities such as restrooms, showers, buffets, sun loungers, and umbrellas are conveniently available. Although the waters are somewhat deep, their clarity is a delightful draw. A designated camping area on the beach further enhances its appeal for outdoor enthusiasts.
Kurfalli Alti Beach: For those yearning for solitude, Kurfalli Alti Beach promises a peaceful haven. Spanning from Göksu stream's mouth to the western rocky end, its fine sandy shores invite serene beach days. A camping zone at the beach's heart welcomes those keen on an overnight stay under the stars. The adjacent cliffs, ideal for rock climbing and angling, add a dash of adventure to this tranquil locale.
Sahilkoy Beach: Previously known as Domalı Beach, Sahilkoy Beach along the Şile coastal road is a camper's paradise. It offers varied accommodation options, from bungalow houses to tent camping spots. On-site amenities like food and beverage services, sunbeds, umbrellas, and showers enhance the comfort of your stay.
Dogancılı Beach: Among Ağva's renowned beaches, Dogancılı Beach stands out with its summer homes lining the shore, evoking a seasonal retreat ambiance. As you amble along its lengthy sands, the allure of the turquoise sea becomes irresistible. While pedestrian access is free, vehicular entry incurs a fee. Note: It's advisable to bring along essentials like sunbeds, umbrellas, and refreshments.
Sofular Beach: Sofular Beach, noted for its fine sands and gentle waves, is a family-friendly haven, especially favorable for young children and novice swimmers. Its extensive sandy stretch invites leisurely strolls and sunbathing. As there are no on-site facilities, visitors are encouraged to bring along necessary provisions.
Kabakoz Beach: Kabakoz Beach, a lesser-known escape amidst Ağva's beaches, promises a quieter, serene seaside experience. Its smaller size, coupled with lesser foot traffic, makes it a preferred choice for families and couples seeking tranquility amidst the rhythmic lull of waves.
Akçakese Beach: Nestled amidst rugged cliffs, the elusive Akçakese Beach is a hidden gem awaiting discovery. Its tranquil ambiance is a solace to those seeking respite from the bustling crowds. Despite its concealed location, with a little guidance from the locals, you'll find your way to this serene shoreline. Akçakese Beach beckons the adventurous at heart to unveil a secluded slice of coastal paradise near Istanbul. Once acquainted with its calm waters and peaceful setting, you're bound to become a frequent visitor, cherishing the clear, gentle waves that grace its shores.
İmrenli Beach: Located post Akçakese Beach, İmrenli Beach boasts a popularity due to its expansive sandy stretch and pristine waters. While it excels in natural beauty, the lack of on-site amenities is a minor drawback. However, its unspoiled charm and accessibility continue to attract beachgoers seeking a serene coastal escape.
Sile's Therapeutic Sands: A Journey into Natural Wellness
Ağva's Captivating Coves and Bays: A Tranquil Escape Amidst Nature
Discover the serene beauty of Ağva's untouched coves and bays, each offering a unique retreat into nature's embrace. Nestled along the gentle shores of the Black Sea, these quaint coastal havens are a sanctuary for those seeking solitude and natural splendor. From the secluded sands of Kilimli Bay to the geological marvels at Kadırga Bay, Ağva's coastal contours unfold a peaceful retreat, just a stone's throw from Istanbul. Embark on a tranquil journey to these picturesque locales, where the rhythmic lull of waves, the whisper of cool sea breeze, and the scenic vistas promise a rejuvenating escape from the daily hustle.
Kilimli Bay (Cove): Situated along the Kerpe road, Kilimli Bay unveils a pristine retreat with its white sandy shores and crystal-clear waters. It's an idyllic escape for those yearning for a day of solitude amidst nature's grandeur. The bay's surrounding area offers complimentary camping spots, inviting you to set up your tent and immerse in the scenic tranquility. While the nearby facilities cater to your essential needs, camping on the elevated terrains around the bay lends a vantage point to appreciate the serene beauty that Kilimli Bay has to offer.
Galley Bay (Kadırga Bay): Located a mere 7 km east of Ağva, Kadırga Bay is a notable addition to your Ağva exploration list. Known for its unique rock formations and cliffs, sculpted by the relentless waves of the Black Sea, the bay resembles a natural amphitheater. This lesser-known haven invites the curious to witness its geological wonders up close. Whether you're in the mood for a peaceful picnic, a rejuvenating swim, or a leisurely sunbath, Kadırga Bay, situated just a kilometer from Buyukbucaklı Village, welcomes you to partake in a day of simple, natural pleasures.
Göksu River: The serene Göksu River, nestled to the west of Ağva, enchants with its lush verdant surroundings as it meanders into the Black Sea. Its pristine sandy shores offer a tranquil retreat, although during certain seasons, the mingling of river and sea waters may hinder swimming. Yet, these conditions present an invitation for canoeing or paddleboarding adventures.
Yeşilçay Stream: Yeşilçay Stream, a vibrant hub especially during summer, is adorned with quaint restaurants and tea gardens along its banks. The stream's serene ambiance amidst lush greenery provides a perfect setting for a relaxing day out. While overnight stays are not available along the stream, the adjacent tea gardens offer a peaceful spot to relish the picturesque scenery, particularly as the sun casts a golden hue at dusk.
Akçakese Village: Akçakese Village, a haven for those seeking tranquility, beckons with its pristine shores and serene ambiance. Here, you can indulge in a tranquil picnic, or extend your stay at the local holiday and camping centers. The village's treehouses offer a unique lodging experience, complemented by on-site sports facilities and restaurants, ensuring a delightful and restful sojourn amidst nature's charm.
---